supporting Mums' Days at the NE Blogger Awards
On Wednesday evening Mike and I stayed at the fabulous Jesmond Dene House. They very kindly gave us a room in support of Mums' Days nomination at the NE Blogger Awards, at which Mums' Days won Best Parenting Blog!
Jesmond Dene House has always had a special place in my heart. Being in the centre of the lush, green Jesmond Dene public park, it's only moments from the city centre and yet you are transported to the countryside. When my best friend and I ran a business in town, we would often come here for debriefs to celebrate another successful event over a cocktail (not so much work!). And, last year Reuben and I were invited for afternoon tea, which was lovely and we were made to feel so welcome!
When Jesmond Dene House offered us a room for the evening of the Blogger Awards, it felt like the universe was aligning! And what a room it was.  Jesmond Dene House is a luxury, boutique hotel in the middle of Newcastle, so I certainly wasn't expecting little old us to be given one of their best suites, The Noble Suite. The room is amazing.
When I arrived I did a little jokey video prior to the awards, more to calm my nerves as I wasn't able to properly focus and get any work done. But I have done a proper video guided tour of the room below!
Jesmond Dene House – the Noble Suite
If you prefer not to watch, here is a written description with photos!
The room itself is in the eves of the house, which offers such a unique and quirky space! It naturally splits into 3 sections, the bedroom with a desk area, the lounge area and dressing room, and the bathroom. There is also a balcony, which overlooks the parkland.
There is free wifi throughout the hotel, so this space was perfect for working in, and Mike enjoyed working on the balcony the next day too!
The Bathroom screams luxury, with a large bath and huge shower. And, the extra details in the soft towels and toiletries really make this a special place to stay.
Getting ready in Style – Jesmond Dene House
Staying at Jesmond Dene House meant Mike and I could get ready in style and celebrate in understated luxury with a full nights sleep and a delicious, relaxed breakfast the next day!
Eggs Montreal and the copy of Vogue from the room! Heaven, my friends.
And following a gorgeous breakfast, what better way to celebrate winning the Best Parenting Blog at the NE Blog Awards, than to sink into a hot bath?! Absolutely nothing.
 For more information about Jesmond Dene House and their upcoming events (including romantic breaks and Christmas), please go to their Events page.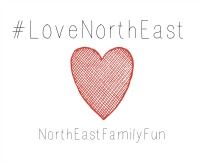 YOU MAY ALSO LIKE